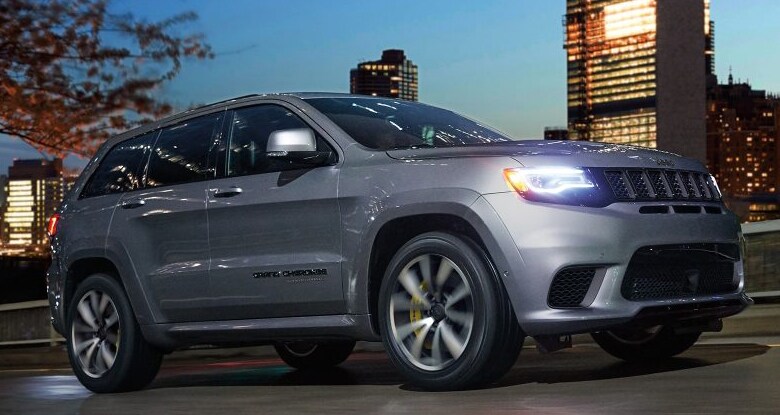 PRIMAL ATTRACTION
Experience the thrill before the chase.
The excitement before the escape.
Captivating 20-inch titanium wheels and
a striking front end designed for maximum
airflow grab your attention and cause a double-take.
Get closer to its stunning profile and it hits you-
this is the moment you've been waiting for.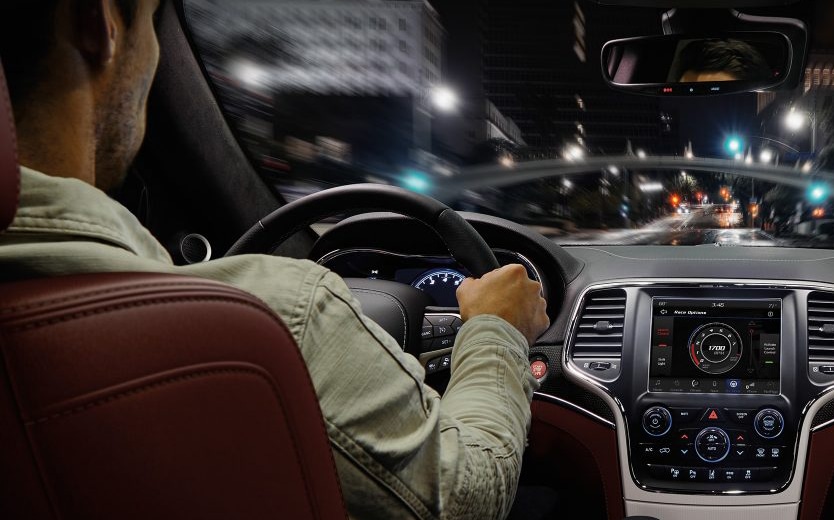 SLIP INTO SOMETHING
MORE POWERFUL
Race-inspired seat bolsters grip you
during high-speed maneuvers keeping you
in place and in control of every curve.
Carbon fiber accents and an available
Laguna leather-wrapped interior form a
sophisticated race-inspired cabin, enticing you to
tap into your primal urge for speed.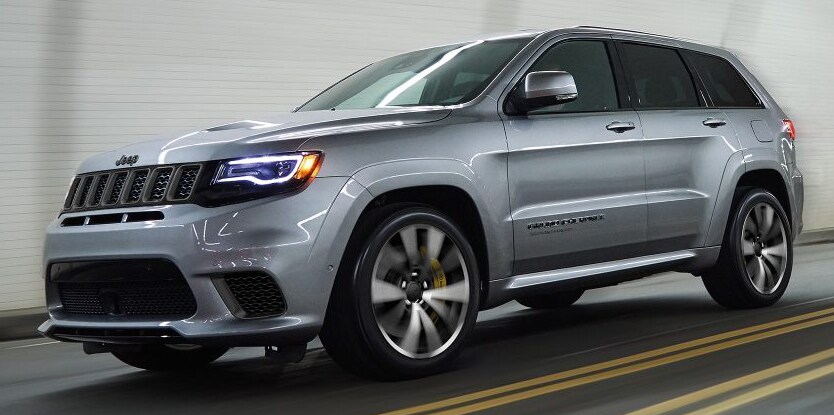 PUSH THE LIMITS
Feel the invigorating rumble of the
Jeep Grand Cherokee Trackhawk as it comes
to life. 6.2L of supercharged muscle and
707 horsepower under the hood provide
uninhibited full-throttle action wherever you go.
High Performance brake system keeps you
in control with two-piece vented rotors
with six-piston Brembo calipers.
LIVING AND BREATHING
Take advantage of the wind as you launch forward.
An aerodynamic rear spoiler keeps drag incheck
as you pick up speed and put the Trackhawk®
to the test. Front air vents feed the Supercharger
before the next power surge while four-inch
black chrome quad exhaust tips breathe out
an exhilarating tone as you accelerate away.
TAKE THE DARE
Heart-pounding, unflinching power. Get behind the wheel of The Quickest and The Most Powerful SUV Ever and your pulse is just the first thing that accelerates. The supercharged 6.2L V8 engine delivers a thrilling power surge when a sporty-bright gas pedal meets an adrenaline-laden foot. Add a modified engine cooling system, a high-performance Brembo brake system and Launch mode to experience heightened, threshold-shattering sensations.